7 Day Cabbage Soup Diet 2.0
Add protein to your 7 day diet!
Enjoy your 7 day cabbage soup diet with a healthy plan. On this page there used to be a basic 7 day diet plan, I followed more than 15 years ago. But - I removed this old plan. Why? Although this plan worked for me - it was a very radical concept - I would recommend it nowadays only as a 7 day cleansing diet.

I know that many of you are repeating this diet from time to time. This is why I endorse especially the advanced cabbage soup diet plans.
The new and advanced Cabbage Soup Diet Plans
Most of the new cabbage soup diet plans add protein to the 7 day cabbage soup diet program

For example - you'll find on this website an improved new 7 day diet with added milk and yoghurt. This cabbage diet plan I can warmly recommend, as it adds the important protein to the weight loss program. Without sufficient protein you'll risk to melt your muscles instead of your "fat zones".

Convenient 7 Day Cabbage Soup Diet 2.0
Program
Even one step further goes the Convenient 7 Day Cabbage Soup Diet 2.0 Program. It is similar to an all-in-one 7 Day Lifestyle Diet. Based on the classic cabbage soup diet it is a synergy of optimised dietary, exercise and stress relief practices for both healthy weight loss and long-term health. It's for all who love to follow detailed plans.

Get here a rough overview regarding our cabbage soup diet 2.0 plan. Unfortunatey we can't upload on our server pictures that are larger than 200 kb. That's why it is hard to see any day specifics. As a special service you may want to try the Zoom it! function below. It will help you get more details regarding the plan and yet it is still not good enough!
Buy our high resolution poster!
But don't despair! If you are ready to do our improved diet plan you can purchase now a big poster that will be delivered worldwide - see below: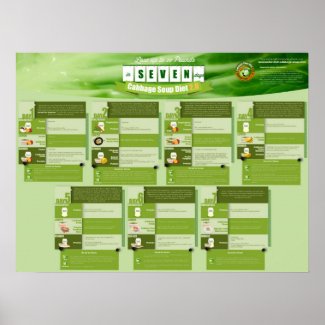 Cabbage Soup Diet 2.0 Poster from The cabbagesoupdiet shop on Zazzle

---

Home › 7 Day Diet › 7 Day Cabbage Soup Diet 2.0